---
Restoration and Protective Glazing
"Every artist dips his brush in his own soul, and paints his own nature into his pictures"
-Henry Ward Beecher
It is the job of the restoration artist not only to restore the artwork, but to do so without interfering with the original intent (soul) of the artwork.
At Degenhardt Glass Studios we are dedicated not only to the creation of the finest new glass art, but also to the conservation of existing stained glass and mosaic. From the minor repair of a broken piece of glass in a front door, to the complete restoration of windows with great historical value and significance, with over thirty years of experience, you can be assured that we have the expertise to accomplish the project.
We are available for consulting and can deliver detailed reports on the condition and needs of your windows, as well as complete restoration services.
We always utilize the least invasive methods possible to restore your artwork to its original grandeur, keeping as much of the original materials intact as possible. You work will only be handled by highly trained professional craftsmen.
We also offer protective glazing for new or existing stained glass windows. Protective glazing will not only protect your precious stained glass windows but add a valuable insulating factor. Proper protective glazing can reduce the energy loss associated with all single glazed windows, which can reduce your energy costs.
Protective glazing can be done with plastic or glass. Plastic coverings are very strong but tend to yellow and get hazy over time. We recommend the use of Tempered safety glass for most situations. Tempered glass is very strong and will not yellow or haze as does plastic, and is much safer than regular plate glass in that if it is broken it breaks in tiny pieces much less likely to cause harm than the large shards of broken plate glass. Another option is laminated glass which is more expensive and much easier to break than tempered but will remain in place if broken due to its inner layer typically made of polyvinyl butyral (PVB)between its multiple layers of glass.
We use only the highest quality products to protect your windows, including proudly using J. Sussman Inc. frames. Since 1906 they have manufactured the finest quality metal framing available for stained glass protective glazing. These frames are specifically designed and vented in order to maintain the proper atmosphere to increase the longevity of stained glass windows.
Do your windows need attention? Click here for a list of things to look for.
Please feel free to contact us for all your restoration needs and or questions. We will proudly give references upon request.
512-267-0959
or
inquiries@jdmglass.com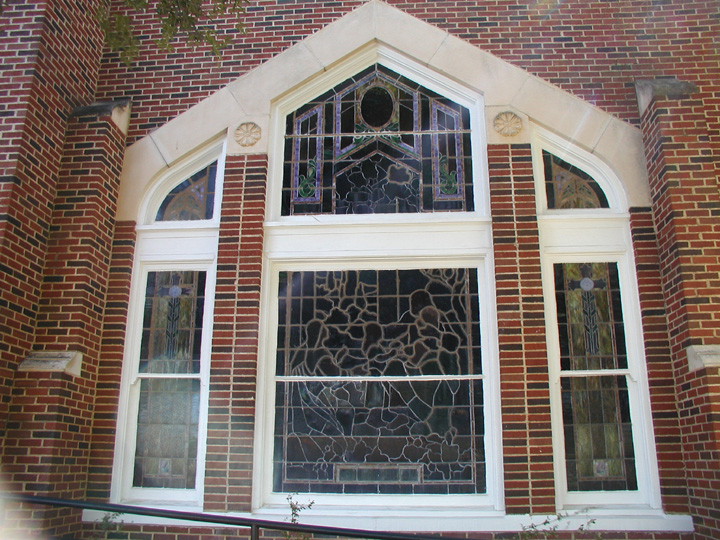 Above is a stained glass window before restoration. Due to age the window had many deflections (warped and bowed areas) where the lead was delaminating, and there were many broken pieces, all causing the window to leak. This is apparently why the window was covered in silicon. You can clearly see in the picture below that almost every lead line had been caulked.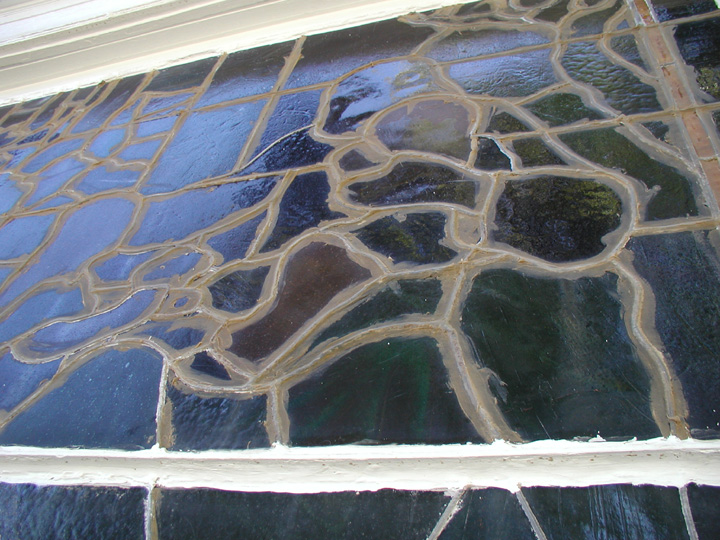 Below is the window after restoration.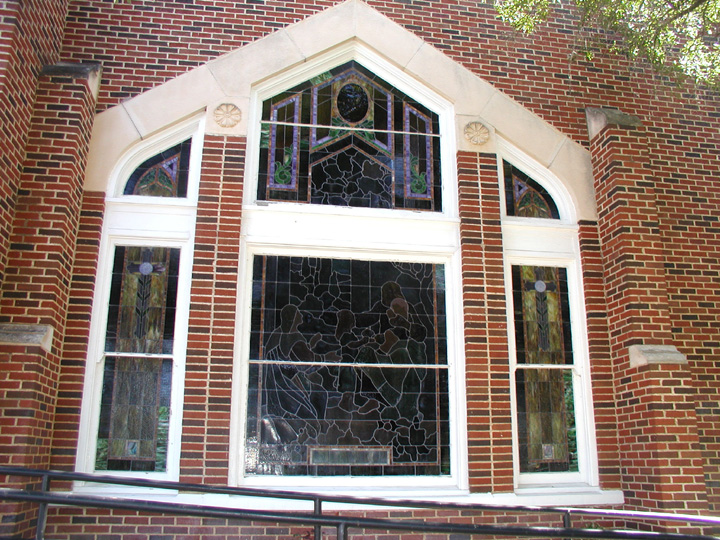 The window was completely removed and taken back to the studio for restoration. All of the caulking on the glass and lead was removed. Broken pieces were replaced or restored as needed, the lead was cleaned and areas that needed were replaced. Then the window cemented properly to make it more water tight and reinstalled.
Below are pictures of this beautiful window from the inside of the building after restoration